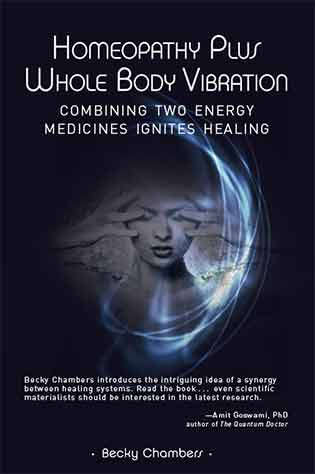 Excerpts from Homeopathy Plus Whole Body Vibration
> Front Cover
> Endorsements
> Table of Contents
> Foreword: Norm Shealy on WBV
> Forward: Burke Lennihan on Homeopathy
> Preface
> Energy Medicine: A Phoenix Rising
> Chapter 1, first section
> Back Cover

EPUB Book – $2.99
MOBI Book for Kindle – $2.99
Homeopathy Plus Whole Body Vibration: Combining Two Energy Medicines Ignites Healing
by Becky Chambers
Three things cannot be long hidden: the sun, the moon, and the truth. —Buddha
In her first book, "Whole Body Vibration: The Future of Good Health," Becky Chambers introduced the life-changing benefits of this booming body, mind, and spirit therapy. Now in her second book, "Homeopathy Plus Whole Body Vibration: Combining Two Energy Medicines Ignites Healing" she explores the exciting possibilities for health and well-being by combining whole body vibration with homeopathy. Homeopathy, based on the principle of like cures like, is an energy medicine that treats each person individually by stimulating his or her own natural healing ability. And as Chambers has discovered, homeopathy plus whole body vibration creates a healing fire of epic proportions. Chambers presents this latest concept in healing with research from expert resources, including publications such as Lancet, the British Medical Journal, and the New England Journal of Medicine, along with inspiring stories from her own clients. "Homeopathy Plus Whole Body Vibration" offers exciting possibilities in the treatment of illness and the quest to reach our highest potential.
Midwest Book Review: Exceptionally well written, extraordinarily well organized, impressively accessible for the non-specialist general reader, "Homeopathy Plus Whole Body Vibration: Combining Two Energy Medicines Ignites Healing" will prove to be an enduringly popular and highly valued addition to professional, community, college, and academic library Alternate Medicine reference collections and supplemental studies lists. For practitioners, students, and non-specialist general readers with an interest in the subject, it should be noted that "Homeopathy Plus Whole Body Vibration" is also available in a Kindle edition.
(The Midwest Book Review is an organization which libraries use to help them choose books for their collections).
Becky Chambers has introduced the intriguing idea that the combination of homeopathy and whole body vibration works better for healing than each of the systems individually. Read the book; the combination may work for you. Even scientific materialists should be interested because Chambers presents a new nanotechnology-based theory in support of homeopathy along with older theories.
—Amit Goswami, PhD
Quantum physicist and author of
The Quantum Doctor and Quantum Economics
Being a one-trick pony, I am always impressed when an accomplished homeopath takes on the task of mastering a second field of healing. Like Whitmont (homeopathy and Jungian thought), Helms (homeopathy and TCM), and Nerman (homeopathy and cranial osteopathy), Becky Chambers has written a text which expands our understanding of two fields. Kudos.
—Roger Morrison, MD
Author of Desktop Guide to Keynotes and Confirmatory Symptoms