Personalized WBV Coaching and Natural Health Counseling
Easy Start Package
Initial Evaluation (60-90 minutes as needed)
Four follow-up sessions (30-60 minutes each as needed). To be used within six months.
Personalized WBV coaching, including methods, exercise positions, and troubleshooting.
Natural health counseling including individualized diet approaches, nutritional supplements, and other natural methods as needed.
Homeopathic counseling (energy medicine). See also Becky's book Homeopathy Plus Whole Body Vibration for more information.
10% discount* available when you buy your WBV machine through Vibrant Health.
Electrodermal testing
To help pinpoint your health problems to particular meridian points and their associated organs or systems, Natural Health Practitioner Becky Chambers will use a computer linked system to measure the electromagnetic energy levels at different acupuncture points on your fingers and toes. The process is painless, but the computer program is a powerful tool that charts these electromagnetic energy levels scientifically so you can instantly see the results on the computer screen. Baseline levels can be seen and the likelihood of different approaches leading to healing can be assessed. There's no waiting for lab tests to come back. Learn more about electrodermal testing here.
Wellness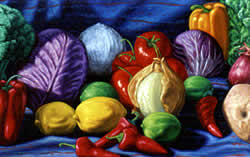 Vibrant Health offers and utilizes many types of products and modalities in its quest for your greatest well being:
Nutritional Counseling & Supplements
Speed up your weight loss, toning and recovery from many health problems by supplementing Whole Body Vibration with nutritional supplements and adjustments to your diet.
Homeopathy & Herbology
Optimize your body's ability to heal itself with powerful new herbal and homeopathic remedies. Learn more here.
Detoxification
Naturally and gently remove toxins stored in your body.
Whole Body Vibration Coaching
Consult with Becky Chambers for a personalized program of WBV plus other natural approaches to best address your health issues.
A Success Story
"In February of 2005, I was facing burn out at work and the option of adding 2 more prescriptions to my then normal 7 to cope with my health issues. At 55, the idea of going to 9 prescription medicines was scary and depressing. I heard about Becky Chambers from a friend and arranged a time to meet with her. That meeting resulted in a whole new way of life for me. It changed the way I eat, began the use of a variety of supplements recommended by Becky and introduced me to the Whole Body Vibration machine. This combination of approaches was a plan designed especially for me by Becky Chambers and within six months I accomplished 2 things I have been trying to do for YEARS! I lost 30+ pounds and have successfully weaned myself off some of my medication which I have used for 20 years! My friends often ask "are you still on that diet" and I tell them—it wasn't a diet it was a change of lifestyle (Note: I also had regular check ups with my primary care physician to monitor all reductions in my meds. For me, it was not just the "diet" nor was it just the "machine"—it was the unique combination of diet, supplements and Whole Body Vibration that Becky was able to develop for my unique situation. I cannot thank Becky enough and I recommend her approach to working with the whole person as the best thing I could have done for myself!"
—Darlene-Marie Slagle