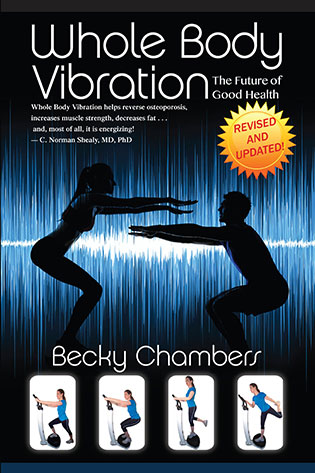 Excerpts from Whole Body Vibration
> Front Cover
> Table of Contents
> Introduction
> Excerpt-Chapter 1
> Back Cover

EPUB Book – $2.99
MOBI Book for Kindle – $2.99
Whole Body Vibration
The Future of Good Health
by Becky Chambers
INTRODUCTION—
Whole Body Vibration (WBV) is exploding in popularity around the world because of its remarkable capacity to enhance health and well-being. WBV has been shown by extensive research over forty years to be intensive exercise, and movement is what we are designed for—it is the true fountain of youth but is often missing from our busy and sedentary modern lifestyles. As hard as it is to believe without actually experiencing it, ten minutes of WBV training will give you the benefits of one hour of conventional weight lifting, including increased muscle strength, bone density, flexibility, coordination, balance, and weight loss. These benefits alone are enough to drive WBV's great popularity, but, in fact, they are only the tip of the iceberg when it comes to the total effect on health and well-being.
Becky presents state-of-the-art information on the exciting new technology of Whole Body Vibration in her book, "Whole Body Vibration: The Future of Good Health"…The more I learn about WBV, the more impressed I am…I expect we will see much wider use of the WBV in the future.
—John Bordiuk, MD, Internist and Medical Director
Inner Balance Integrative Medicine
Pioneers such as Becky are putting healthcare back where it belongs—in our own hands. Pardon the pun, but I get good vibrations from Beck Chambers and Whole Body Vibration.
—David McMillian, LPC-5, LMFT
Marriage and Family Therapist